---
For much of the day on Tuesday following the Labor Day weekend, the TreasuryDirect.gov platform for purchasing and redeeming United States savings bonds and other securities directly from the U.S. Treasury was down and inaccessible, leaving investors stranded.
As seen in the following image from DownDetector.com, many people reported not being able to access the TreasuryDirect platform, speculating that there could be more to the story than simply a "glitch" or "technical problem."
"Starting to wonder if investing in treasuries is really a risk free return if they can't even keep their website running," one wrote.
"You are only losing out on $150/day per M and they said that they are sorry!" joked another in response – see the photo below: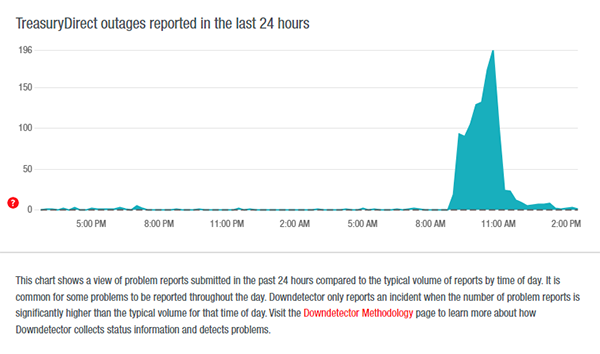 The FrankNez finance website also reported that some TreasuryDirect customers are unable to withdraw money from their accounts, which is particularly upsetting following a three-day weekend.
In case you are unfamiliar with how the TreasuryDirect platform works, large financial institutions, as usual, have priority access to its auction house. Whenever the public system is down, the big guys can still money-change as usual while retail investors get stuck with "technical problems" notices.
(Related: Earlier this year, former Assistant Secretary for Public Affairs at the U.S. Treasury Monica Crowley warned that if the U.S. dollar loses global reserve currency status, which seems likely in the near future, there will be a complete economic implosion in America.)
The U.S. financial system is sinking like the Titanic – it's taking some time, but it'll end the same way
It turns out that other financial institutions, including JPMorgan Chase, also had problems over the Labor Day weekend. JPMorgan Chase's ATMs were reportedly down all weekend long, with hundreds of reports about problems flooding in even after the bank claimed to have fixed the "technical issue."
As for TreasuryDirect, many users say they can no longer access their funds while some cannot even log in at all, making it impossible for them to access their accounts.
"Why they lie and steal my money?" one asked. "I can't access site 7pm Sept. 3rd wth, I expect a 20k reimbursement check. I have receipts."
Another complained that he has not been able to log in to the TreasuryDirect website since last Friday.
Similar reports are flooding in from all across the country, including in states like California, Florida, New York, Ohio, Pennsylvania, Texas, Virginia and Wisconsin.
The week prior to this latest fiasco, FrankNez reported that TreasuryDirect was "freezing customer accounts" for no apparent reason, leaving users without any access to their funds for weeks or even months.
"My account has been frozen since April right after I deposited $1,500 from a settlement," said a TreasuryDirect user named Tammarra Johnson. "I mailed in the required form from my bank that was needed to unlock my account and it is still locked."
"It's sad to know financial institutions are basically taking citizens' money like times aren't already hard."
Roughly 10 months ago, another TreasuryDirect customer named Samuel Clemens reported similar problems when trying to use the platform.
"I've been buying iBonds for 10 years," he says. "So earlier this year, four years after I opened some proprietorship accounts, TreasuryDirect finally comes back to me to query some of the registrations. There's no way to speak with them. Emails are ignored and written correspondence takes months."
Even Frank Nez himself says he cannot access the TreasuryDirect platform.
"If this were a private business, fraud charges would be laid!" he writes.
The latest news about the coming collapse of the U.S. fiat economy can be found at Collapse.news.
Sources for this article include:
Submit a correction >>